Exhibiting at PACK EXPO Las Vegas 2023, Fresh-Lock Closures Has New Innovations in Development
Space-saving equipment optimizes the application of zippers and sliders for flexible packaging
APPLETON, Wis. – Fresh-Lock® closures, a leading brand in reclosable flexible packaging technology, will exhibit at PACK EXPO 2023, September 11-14 in Las Vegas. Attendees are invited to visit booth C-3003 in Central Hall to learn more about the team's recent improvements in slider application equipment, sustainable closure solutions, and new advancements that are underway for child-resistant flexible packaging.
As a 2023 Flexible Packaging Association Award winner earning Gold in Sustainability, the Fresh-Lock team recognizes the importance of collaboration to reach new heights in sustainable packaging solutions. Attendees with interest in sustainable solutions for reclosable flexible packaging are invited to experience the Fresh-Lock® 8000 Series, an impressive lineup of closures designed to champion circularity and waste elimination with minimum reduction in production efficiencies.
The Fresh-Lock team is also excited to share their recent efforts with space-saving equipment that makes the application of zippers and sliders more accessible. In partnership with equipment manufacturers, the Fresh-Lock team recently completed updates on the SR-T100 to help simplify maintenance and save energy.
The Fresh-Lock® Elevate Slider Platform is now available for packagers wanting slider applications with reduced complexity at a lower capital investment. Running at up to 100 bpm, the Elevate Platform, a compact unit, mounts vertically to existing pouch lines to optimize space and save energy—making it a sustainable, space-saving option.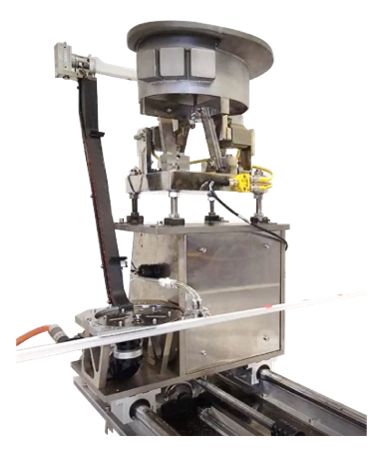 In addition to these recent updates, the Fresh-Lock team is currently working on a new addition to their Child-Guard® slider portfolio as demand for child-resistant features increases across various product categories. The closure's design criteria aim to prioritize the consumer experience by maximizing the width of the pouch opening, maintaining an ergonomic feel and delivering superior performance. Currently in development, the Fresh-Lock team is focused on manufacturing a mono-material format for recyclability and reducing the overall footprint of the closures.
To learn more about Fresh-Lock® closures' latest solutions and services, visit the experts at booth C-3003 in the Central Hall at PACK EXPO 2023 in Las Vegas or visit fresh-lock.com/packexpo2023.
Images are available for media use here.
###
About Fresh-Lock® Flexible Packaging Closures
The Fresh-Lock® brand is the market leader in press-to-close zipper and track & slider reclosable solutions for flexible packaging. With a solution for practically any packaging need, our closures help drive consumer loyalty and brand differentiation through functional benefits. The Fresh-Lock team offers specialized packaging machinery and quality components for fast and efficient track and slider applications.
Our solutions include the child-resistant Child-Guard® slider and the Fresh-Lock® 8000 series, a line of sustainable closures designed for flexible packaging. The Fresh-Lock® brand of products is designed and produced by Presto Products, a business of Reynolds Consumer Products.
Press Contact
Amber Lovell
Public Relations Specialist, Element
amber@goelement.com